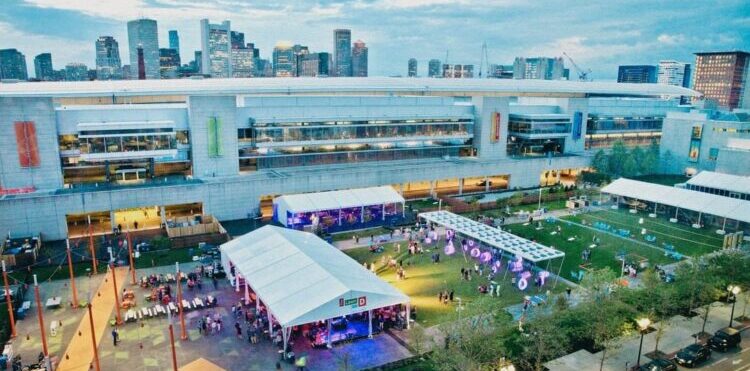 July Meeting registration is open for the Lawn On D!
Register:
Please click here to register (members + guests only)
If anyone has any questions, please ask.
Looking forward to seeing you all on THURSDAY, JULY 15TH
Details:
Noon – 2:00pm
Event held RAIN OR SHINE as we have covered space available
Business casual attire
Catering provided by Rebel Group
The Lawn On D is an event space designed for both public and private events and to encourage community engagement, foster creativity and integrate the Boston Convention & Exhibition Center (BCEC) into the urban fabric with arts, music, games, food & beverage, and other original programming.
The Lawn On D is a 2.7-acre outdoor event space on D Street next to the BCEC. The site draws audiences from across the city and brings vitality to the neighborhood through inspired, high-caliber programming and events. Recognizing its potential as an innovative private and public space, The Lawn On D is designed to further activate and engage the South Boston community.
The Lawn On D offers a vibrant space with freshly planted trees and greenery, paved walkways, picnic tables, and two pavilions. The versatile infrastructure allows for a variety of public and private events. Both pavilions come equipped with utilities and electrical connections, staging, lighting, security, furniture, lawn games, and free Wi-Fi access, which enable planners to bring their events to life in an energetic and truly unique lawn setting.
Directions:
The address of The Lawn On D is 420 D Street, Boston, MA.
Free Parking:
Parking will be free in The South Lot parking of the Boston Convention and Exhibition Center (BCEC). Attendees can walk up to the South East vestibule across from the LOD on the East side of the BCEC to access the event.
Public Transportation
The Lawn On D Powered by Citizens Bank is steps away from the MBTA's Silver Line World Trade Center stop. It's also a 15-20 minute walk from South Station, which provides local services via bus and subway (Red Line), and Broadway Station. There is also a Blue Bikes station in front of the BCEC on Summer Street and in front of The Lawn On D on D Street.
Guests
We are pleased to welcome back GUESTS!! Please feel free to bring a colleague or a spouse/partner. Instructions available on the Eventbrite page.
Ticket Pricing and Refund Policy:
Please note that registrations are non-refundable as of 5pm the Friday prior to the event. Name changes are permissible.
Ticket prices will increase by $20 to $85 per event at 5:01pm on Friday prior to that month's meeting.